What is PRP (Platelet Rich Plasma)?
PRP (Platelet Rich Plasma therapy) is a new cutting-edge treatment to cure hair problems like hair thinning, hair fall and hair loss. It helps the body's natural ability to heal itself. In other words, PRP therapy is a concentration of platelets, which can jump into the body in the form of growth hormones and cytokines that helps the tissues to start rebuilding and healing. Now let us discuss more about PRP hair treatment.
What is a PRP treatment for hair loss?
Platelet Rich Plasma therapy is a revolutionary treatment for hair loss that promotes hair growth to make the hair denser and stronger again. 
The treatment is performed by hair experts who are specialised in doing PRP therapy. In this treatment, doctors use the platelet components of a patient's blood to promote the regeneration and cell repair of their hair. As a result, this will heal the factors and speed up hair growth and gives them dense and healthy-looking hair. However, the primary focus of PRP hair treatment is to stimulate the hair follicles to grow faster and reverse hair fall and thinning of hair.
What's the process of PRP hair treatment?
PRP treatment is greatly advantageous treatment for all men and women who are suffering from bald patches, hair thinning and severe hair loss. The treatment involves 5 steps and takes around 90 minutes to complete.
Step 1 – 10-20ml blood is drawn typically from your arm.
Step 2 – This blood is transferred to special PRP tubes that contain a special medicine to separate the plasma from the blood.
Step 3 – We put these tubes into a centrifuge (a specially designed machine that separates plasma from the blood).
After spinning this for around 15-20 minutes the blood is separated into 3 layers: Platelet Rich Plasma + Platelet Poor Plasma + Red Blood Cells
Step 4 – The platelet rich plasma is then drawn up into a syringe and injected into the affected ares of scalp or where the patient is facing hair loss or hair thinning problem.
Step 5 – We have observed that PRP treatment gives best results when it's mixed with Derma Roller treatment. After step 4, micro punctures are made into the scalp with the help of derma roller and remaining platelet rich plasma is sprayed onto the scalp while applying the derma roller. This ensures that PRP reaches to the hair roots. As these growth factors reach the hair roots the stimulate the hair roots and and help cure all hair ailments.
As a result, the affected area of the patient's scalp starts growing new hair follicle and stimulates hair stem cells again.
Is this PRP hair loss treatment effective?
PRP hair therapy treatment is a completely non-surgical process with no side-effects. It will reduce the hair fall problem and increases the growing phase of the hair. It also reverses the volume or density of hair, which ultimately gives new looks to the patient.
PRP Hair Treatment Side Effects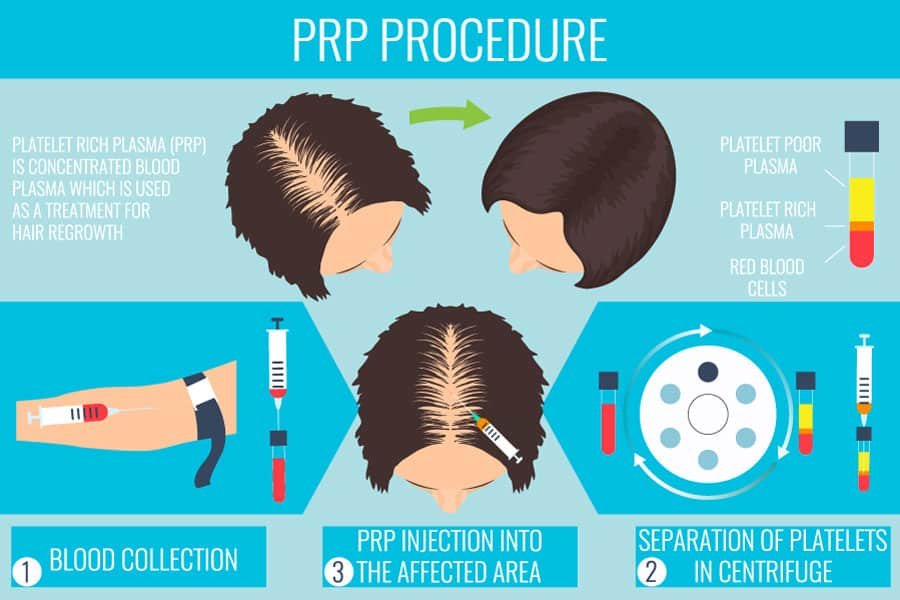 Know More About PRP Hair Treatment
Majestic Global hair and skin services is the one-stop solution for all hair fall problems. Here, at this step, our belief is to offer the best and certified PRP treatment at a very competitive cost. We promise to provide the best treatment with all qualified and dedicated staff and the most recent technologies that guarantee best results for all our esteemed clients. Platelet Rich Plasma therapy is relatively a simple and the latest technology hair treatment that builds the self-confidence of our client and brings a beautiful smile on their face.
Book A Free Hair Consultation Now!
This comprehensive consultation will help you understand the root cause of your hair problems and the best solution for it.
Tags:
How long does PRP last for hair loss?, Does PRP really work for hair regrowth?, Can PRP cause hair loss?, Is it necessary to do PRP after hair transplant?, Is PRP for hair loss permanent?, Will PRP thicken my hair?, How long does PRP take to work?, Is PRP hair growth permanent?, Does PRP prevent hair loss?, Is PRP treatment safe?, How much is PRP treatment?, Is PRP treatment effective for hair loss?, How long does it take to recover from platelet rich plasma?, Is PRP better than hair transplant?, Does PRP work on bald spots?, prp hair treatment side effects, prp hair treatment success rate, is prp effective for hair loss, prp hair treatment cost, prp hair treatment before and after, is prp hair treatment permanent solution, prp for hair loss before and after