Mesotherapy is the new treatment, which is used to the treat hair loss problem of both men and women. The therapy is undoubtedly an alternate way to restore lost hair by injecting vitamins, proteins and other essential nutrients so to restore the hormonal balance into the mesoderm of the scalp. As a result, cell metabolism starts growing again and helps the hair follicles to create long, dense and strong hair.
How does Mesotherapy Treatments work?
Mesotherapy treatment process involves the technique of injecting healthy nutrients into the mesoderm (a thick layer under the epidermis, which serves as a link between the tissues of the skin and the layer of fats) of the scalp. However, this treatment process is to be done with the help of special injection, which inserts rich liquid nutrient via a pin pricking process in every part of the bald skin area. As a result, the maximum absorption of the nutrients by the hair follicles assures the scalp to have a proper blood circulation and hormone balance, which helps in boosting and regrowth of hair. The treatment is virtually a painless therapy and quite safe when done by experts or dermatologist. The treatment doesn't require any surgery or anesthesia. There is also no need for dressing and after the treatment, a patient can easily go back to work.
What are the advantages of Mesotherapy Treatment?
How long the Mesotherapy treatment takes?
Mesotherapy treatment for hair loss hardly required 10 to 15 sessions, which can be conducted within the gap of a 1 week time or maybe 1 or 2 days, depending upon the condition and area to be treated for hair loss.
Is Mesotherapy Treatment painful?
As during this treatment, the nutrients are injected into the fatty layer skin or veins and muscles of the bald area. The treatment is slightly painful which can easily be recovered within 1 or 2 days. A patient may also suffer from a headache or the area around the eye and forehead.
What are the side effects of Mesotherapy Treatment?
Mesotherapy Treatment is a quite, safe and effective process and there is as such no side effects. But, sometimes patient according to their stamina may suffer from the following side effects:
Pain
Sensitivity
Bruising
Skin-Redness
Rash or scratches
Dark patches of skin
Itching
Swelling
How long the Mesotherapy treatment benefit last?
Well, it depends on the condition of a patient's hair loss disease. Sometimes, the patient requires maintenance after 6 months or sometimes maybe after 1 year. However, the treatment needs some post-procedure care and precautions too.
What are the precautions with this Mesotherapy Treatment?
After going through this Mesotherapy treatment, one needs to follow the healthy lifestyle and well-balanced diet.
Regular exercise and workout are also must after this treatment.
Consumption of junk food is strict 'no-no' with this treatment.
Sun exposure must be avoided for the next 48 hours after the treatment.
Don't head wash or take a bath for at least 8 hours after Mesotherapy treatment.
Allergic reactions can occur after this treatment. Hence, it's an advice should notice and share with your doctors each and everything as little carelessness will lead you into a big trouble.
Must apply Arnica gel for at least three times a day for next 48 hours. This will help in solving a bruising problem. Must avoid alcohol intake. This facilitates in handling hepatic of toxins.
Be careful, especially while using Minoxidil chemicals, as sometimes due to the hypersensitive skin, the skin can't able to bear a heavy dose at a time. It is an advice always start with a minimum dose at a time and gradually increase the dose as per your efficiency.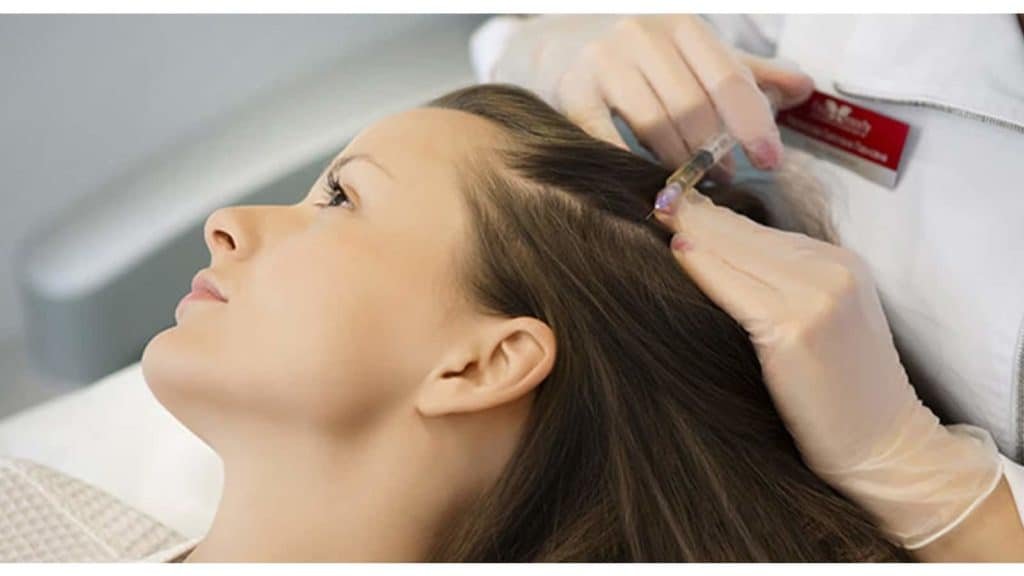 Who are eligible for this Mesotherapy Treatment?
A person who is suffering from Androgenetic alopecia is eligible for this Mesotherapy Treatment.
Patient with weak hair or bald skin on the scalp are eligible can go for this treatment.
A Patient who is fit with good health can go with this treatment process.
A Patient who is able to bear little bit pain related to injecting and pin pricking.
Why us for Mesotherapy treatment?
Mesotherapy is very effective than any other treatment. We at Majestic Global hair and skin services guarantee that our entire products are 100% imported, which undergo routinely strictly for quality-test and are in full compliance with EU and US pharmacy laws and regulations. With a passion for excellence our highly skilled Experts, dedicated staff and aesthetic therapists can offer solutions to a wide range of common hair loss problem solution with a variety of high-quality equipment and non-surgical treatments etc. Our highly dedicated team and staffs are very supportive and always promises for providing client complete satisfaction, from the initial consultation to right through the desired results.
Tags: 

mesotherapy vs prp for hair, mesotherapy for hair before and after pictures, mesotherapy for hair loss near me, mesotherapy aftercare, Is Mesotherapy for hair painful?, Is Mesotherapy good for hair loss?, How long does mesotherapy last?, mesotherapy for hair side effects, Can Mesotherapy regrow hair?, Is Mesotherapy good for hair?, mesotherapy for hair, mesotherapy for hair cost in india, mesotherapy for hair loss cost in delhi, mesotherapy for hair how many sessions, mesotherapy hair injection technique