What is FUE Hair Transplant?
In today's life, hair loss has become one of the most common problems among the people and the reason behind this great loss are the factors such as genetic composition, weak roots, age factors, improper diet etc. There are various methods of treating hair fall problem, but if the hair loss is caused due to genetic composition factor, then it is best to go for an artificial hair plantation treatment. There are various types of artificial hair plantation treatments available in the market. All of them are reliable and offering their best results to the people. Among all, FUE Hair Transplant is relatively the latest technology, which provides much better (in other words, we can say almost incredible) cosmetic results as compared to other treatment processes.
FUE stands for Follicular Unit Extraction, in which grated follicular units are implanted in the bald area of a victim. The best part of this FUE plantation is that it is a no-stitch technique and gives the best result in terms of good density hair growth. It also reduces the possibility of having scars or pockmarks etc. This process is different from other treatment procedures like FUT (Follicular Unit Transport) or strip removal where the strip of hair is removed from the back of the scalp, which is also called donor area, then divided that strips into mini grafts etc. FUE Hair Transplant treatment is especially meant for those people who have what is technically known as Androgenic Alopecia.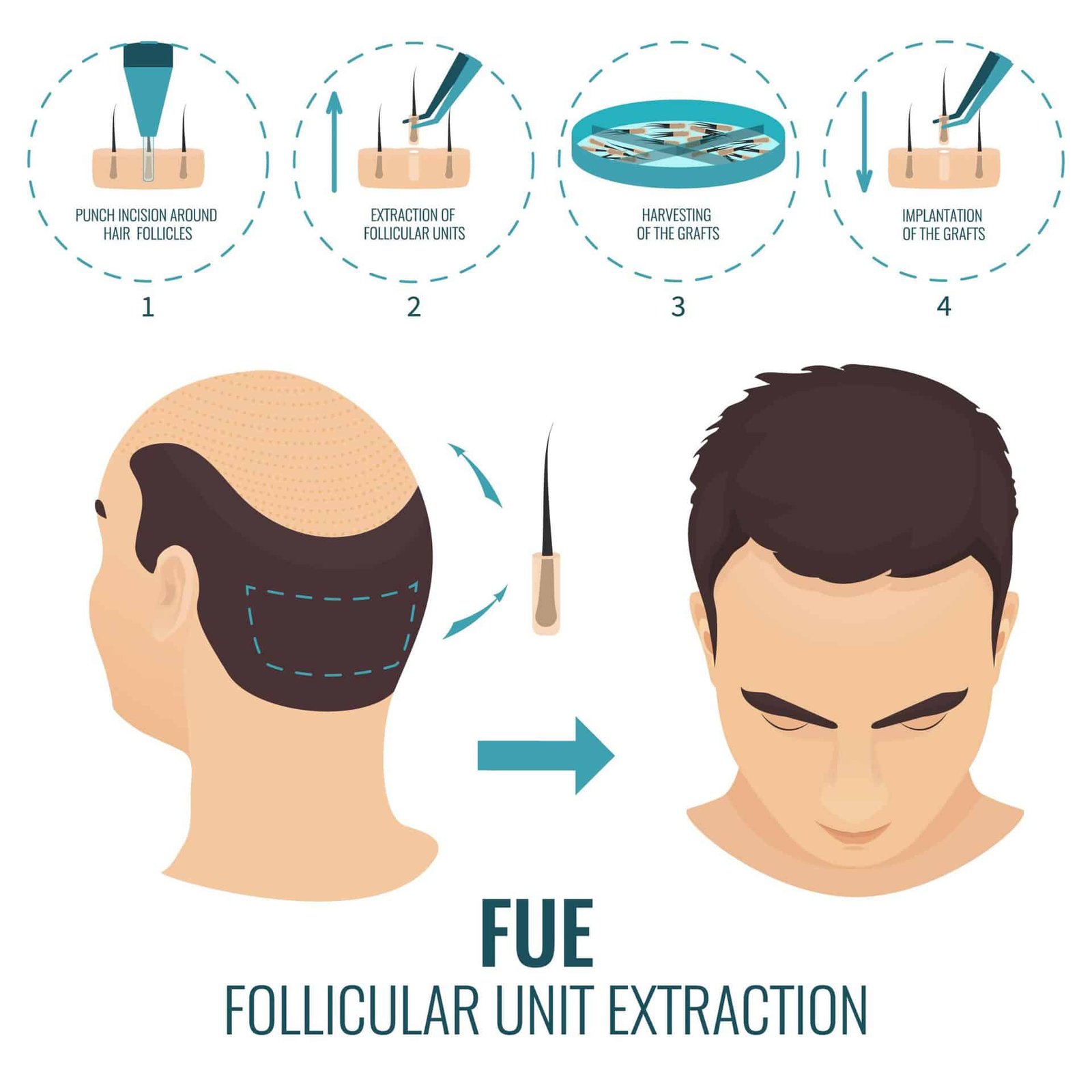 Steps involved in FUE Hair Transplant process
There are various steps involved in this FUE Hair Transplant process.
Harvesting Process
Dissection Of Hair Roots
Artificial hairline designing
Making Micro slits for hair implantation
Hair Implantation
Now let us discuss all these processes in detail:
Yes, it is very safe when they're used in the right hands. But, if the process of this chemical peels not done correctly then, it can be harmful. Hence, it's an advice to have a peel from professionals or experts, who knows how to do a chemical peel.
This is the first and foremost process where dermatologist or surgeons, who are highly experienced in hair planting carry out the process of Harvesting, in which a strip of hair is taken from a safe zone of the body. However, this process is performed by using motorized punching equipment in order to extract the needed number of follicular units. The process is done by giving simple anesthesia, which results in painless surgery.
Dissection Of Hair Roots:
Well, after taking the strips, the next step evolved in the FUE hair transplant is the hair root dissection. For that reason, the surgeon uses a higher magnification of the microscope that helps dissections of hair roots. This process assures 0% error and supports 99%, feasible hair grafting etc. After this grating segment, the same is put into a special solution or we can say saline chemical so that the tissues will be active for a long time.
We specialize in the hair transplant and have internationally trained and experienced surgeons along with a dedicated staff that work with the sole aim of fulfilling client's expectations. We are very cost-effective and also take the necessary precautions & maintain hygiene to transplant your hair. We always believe to take care of our esteemed clients at every step of their way, even from the moment they reserved their seats to the final steps of the hair transplant. FUE Hair Transplant is relatively a simple and the latest technology surgery that builds the self confidence of our client and brings a beautiful smile on their face.
Tags:
fue hair transplant reviews, fue hair transplant before and after, fue hair transplant side effects, fue hair transplant cost, fue hair transplant near me, fue hair transplant video