Have you noticed more hair on hairbrush or a pillow or on the shower drain than normal? 
The shiny and high volume hair is admired by everyone and all wish to have such healthy hair on their scalp. But when you see a cluster of lost hair strands at the drain or any other place, the jeopardizing situation might mean, you will soon lose your celebrity look because of baldness. Don't worry we are here to help, we are Majestic Derma : The Most Reviewed Hair Transplant in Delhi
Losing hair is quite scary if you lose more hair than normal. So, how much hair loss is normal? When should you really start worrying and looking for treatments? Know it here!
How Much Hair Loss Is Acceptable?
Everyone loses hair! As per AAD (American Academy of Dermatologists), the scalp of each person consists of 100,000 hair follicles and losing around 50 to 100 hair strands each day is normal. See, the loss of this much strands will not make any difference in your looks and hair health. So, it is acceptable for every age of people.
Normally, 80 & 90% hair follicles grow at one time and other remaining follicles are either shedding or resting. But losing more than this range is really a matter of worry.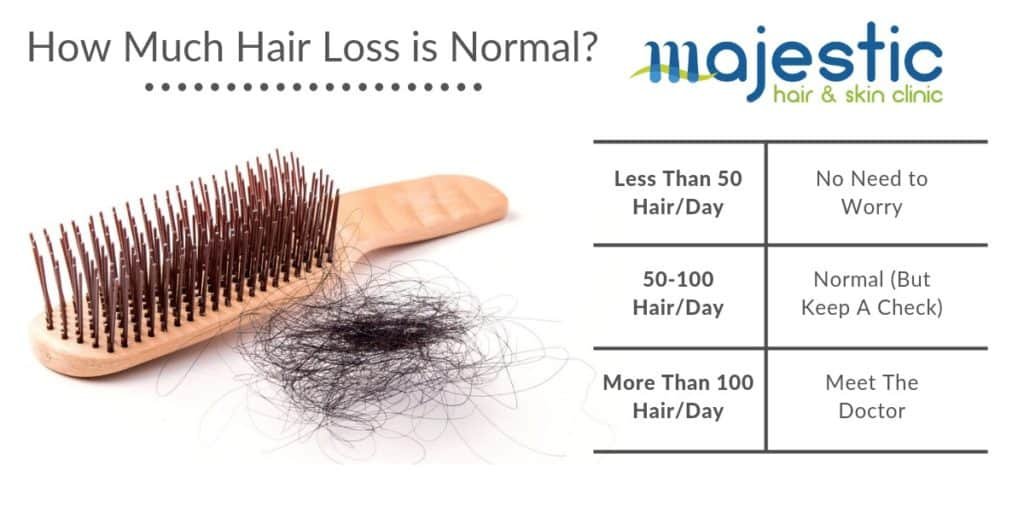 To know about your healthy hair and hair loss deeply, here are some fast facts. Have a look:
It's better to look for hair loss remedies if you've caught it early. So, when you notice bald patches or hair thinning then resort to its solution before it's too late. 
Consistent itching & scratching the hair prompts hair loss. 
Not keeping the hair & scalp clean, can also cause hair loss.
Using hot water can lose hair excessively. So, it's better to use lukewarm water. 
Your diet has a great bearing on hair growth & hair loss. 
Seasonal hair loss also occurs because of abnormalities of prolactin and melatonin levels. 
Female and male baldness patterns differ from each other. It is estimated that by reaching the age of 50, almost all men experience hair loss.
So, is your hair loss normal? Does your scalp visualize bald patches? Are you losing your confidence because of the consistent hair loss? Then surely there's a need to look for the best hair transplant in Delhi.  
You may have a plethora of questions regarding hair transplant. Let us put you forward towards these queries. Dive into it!
What is Hair Transplant?
The hair transplant is a surgical procedure to recover back the reducing hair and hairline. From the backside of the head, the hairs are taken to move it up on the top. If you think, these hairs will again be disappeared, then let us clear you, this will not happen. These newly planted hairs are hereditarily resistant so they will not get removed after that.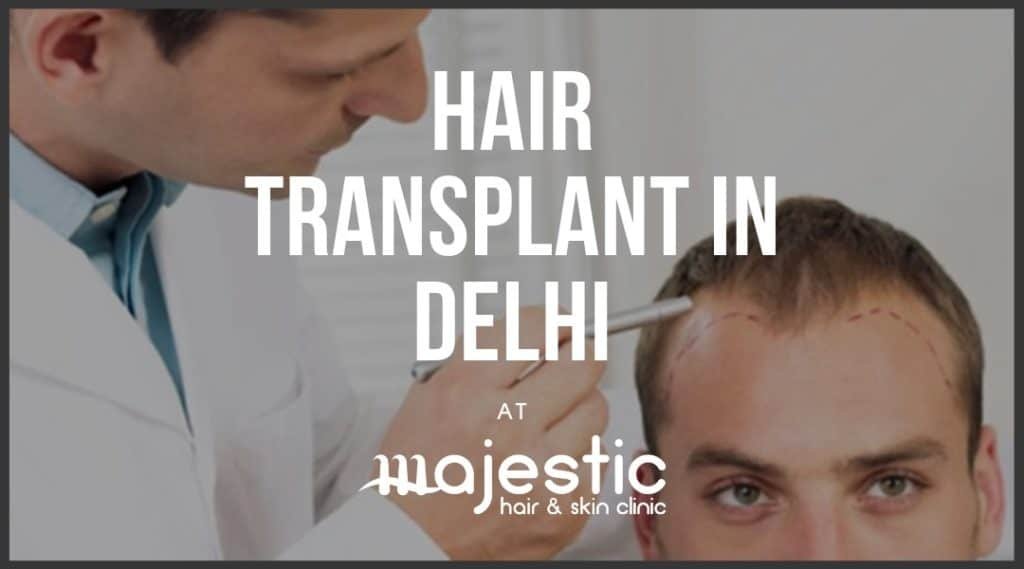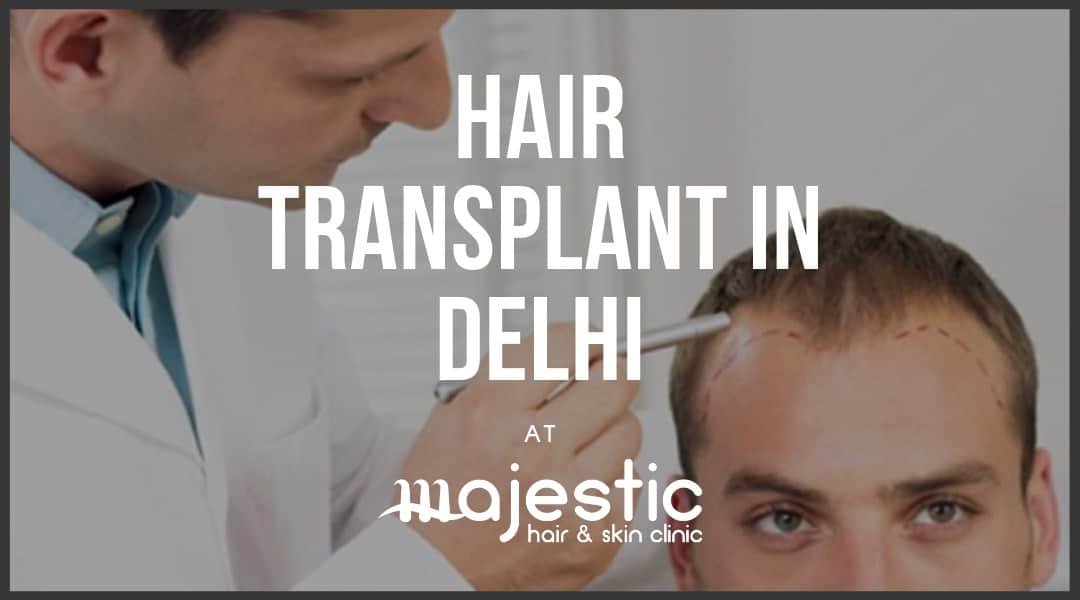 In the scalp's minuscule little slits, these hairs are planted after obtained from the donor region. The donor region is the area from where hairs are taken, particularly it is the backside of the head, hair follicles are taken. 
After a successful hair transplant, hairs start growing in a natural way. In the initial stage, these implanted hairs will fall down within some days and after approx six months, the new hair will grow in this area and make your head fuller with beautiful hair inevitably.   
Hair Transplant in South Delhi
Having healthy hair is everyone's aspiration as it contributes invariably in the personality of a person. Hair transplant in Delhi by Majestic Hair & Skin Clinic is literally a proven formula in fulfilling this aspiration in a guaranteed way. 
You might have noticed a number of centers for hair transplant in South Delhi, but that are either costly or lack in providing complete & advanced services. Instead, head towards the Majestic Hair & Skin Clinic equipped with all latest techniques for scar-free hair transplant in West Delhi. You will surely be satisfied with our services in just one visit.
How the Baldness Level is Checked?
Baldness level is checked with the help of the Norwood Scale. This scale is a visual representation of hair loss stages and receding hairline. 
The minimal hair loss or the starting hair loss stages are shown on Norwood 1 Hairline and Norwood 2. If your baldness level falls in this category then you wouldn't require treatment to deal with it. But stage 3 is something you should worry about and you need to take treatment if your condition falls in this category.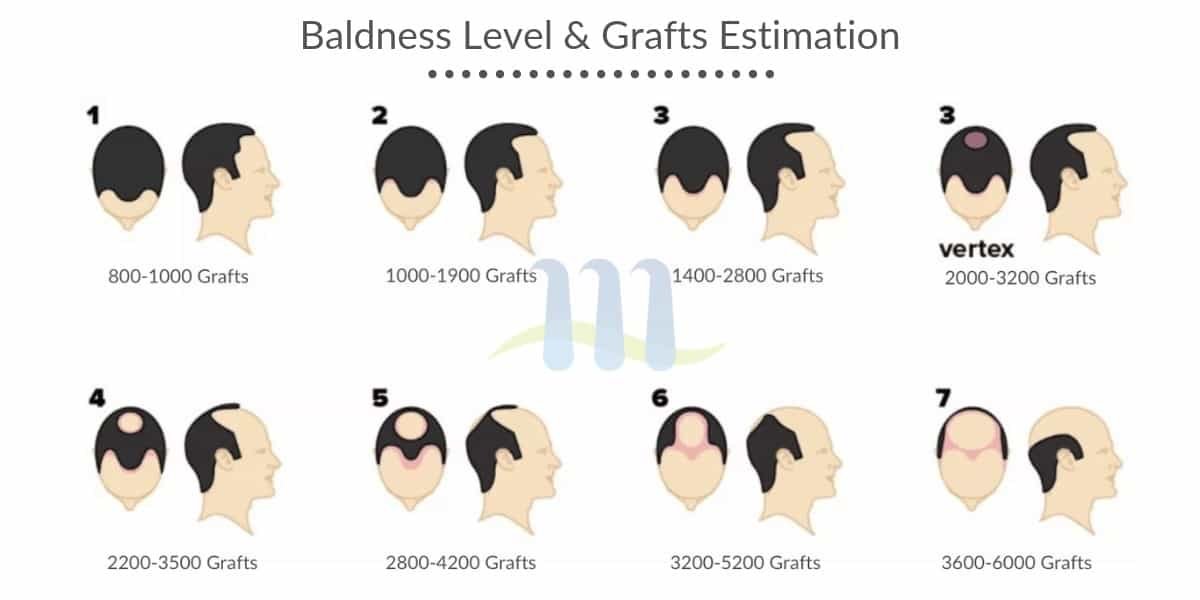 See, how simple is it to check the baldness level on this scale. It showcases the ways of hair loss occurrence along with the rate of hair loss all at one place. So, it can be considered as a warning scale that alerts you for hair transplant or other treatments. 
What are the types/techniques of Hair Transplant?
All over the world, a lot of hair transplant techniques are followed. Here we are sharing some of them, which can bring you productive outcomes for sure. Have a look!
FUE Hair Transplant in Delhi 
Nowadays, Follicular Unit Extraction (FUE) method is widely used and preferred by people and has been propagated by a lot of transplant centers too.
In this transplantation, individual follicular units are taken out from the backside of the scalp without the strip of tissue being removed. Follicles are removed randomly, and eventually, result in lesser density in the donor area (the donor region is the backside of the head from where hair follicles are taken), and is not even noticeable. With this technique only one follicle is removed at a time, making it a perfect option to restore the hair in small cases.
This technique is evolving continuously & now can also be used in larger and larger cases. It takes much expense to learn and develop high standard skills. 
Direct Hair Implantation (DHI)
Direct Hair Implantation (DHI) One of the most Advanced techniques of hair transplantation performed by certified surgeons, not like FUT and FUE mostly performed by technicians. 
At very first, to perform this technique, hair follicles are extracted. One by one hair follicles is removed from the donor area with 0.8mm or 0.9mm diameter tool, specifically designed for this purpose. After that follicle is kept in a solution at a specific temperature. This particularly enhances the development of these follicles after placement without cutting or separating.
After that, the extracted follicles are placed in the bald region. A patented tool is used, named DHI Implanter with the help of which, these follicles are placed directly. The noteworthy point is, holes or slits are not created in advance. 
All in all, this hair restoration solution, launches the hair fusion directly into the scalp without prior holes. 
Robotic Hair Transplant
Robotic hair transplant is one of the most effective and least painful hair transplants with easy procedure. It is computer-assisted equipment, generally used to reform the quality of follicle & also used to Amplify the quality of most Difficult FUE (Follicle Extraction unit). There are multiple components of this hair transplant system like computer interface, robotic arm, and small dermal punches. 
This system is operated by cameras and 3-D imaging software. Around, 1000 hair follicles per hour are removed by this device. FUE hair transplant needs to be done with Great accuracy to prevent the damage of follicular units & Robotic System has enormously increased the precision of the FUE procedure. 
This system not only reduces the damage to hair follicles but also reduces the harvesting time with its precision and best efficacy. Along with better chances of graft survival.
FUT (Follicular Unit Transplantation)
Follicular unit transplant is also known as FUSS (follicular unit strip surgery). Following procedures are followed by surgeons to perform FUT.
From the donor area (backside of head, where the hair growth is thick), the entire strip of hair is removed. As the entire strip has been taken so a linear scar still remains in this region. 
This strip is divided into different grafts that consist of one or two follicles. These units (follicular units) further consist of oil glands, tiny muscles, nerves, vellus hairs (fine hairs), and all. 
These grafted follicular units are then placed into patient's scalp tiny incisions on bald areas, which is also pronounced as recipient area. After this, the hair growth follows a natural pattern and no one can even guess that there was a surgical treatment take place.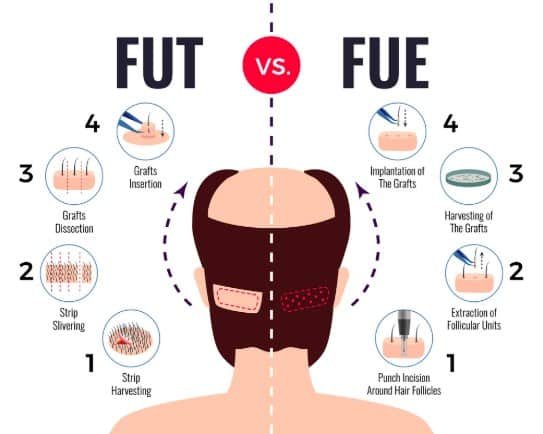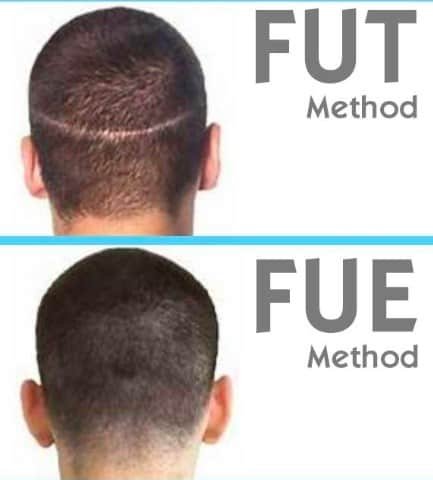 Is Hair Transplant Actually Successful? What's the Success Rate?
Who is a Good Candidate of HT(Hair Transplant)?
Is There Any Side Effect or Risk Involved in Hair Transplant?
Is a Hair Transplant Permanent?
Is Hair Transplant Actually Successful? What's the Success Rate?
Beyond any doubt, yes! Hair Transplant is successful and its success rate is quite high if all the factors are favorable to your hair transplant surgery. This particularly means that the doctor goes through all the facts beforehand and then the decision is taken about hair transplant. Once you cross this diagnosis by the doctor then the success rate is quite high, even more than 90%. 
Here are the factors that are determined thoroughly before hair transplant:
Age
Area and causes of boldness, i.e. genetic, excessive usage of chemical products, hormonal reasons
Hair thickness in donor areas
Front Hairline
Besides this, many other factors are considered by the doctor and then the only hair transplant procedure is followed. The surgical success rate is, of course, high and as its aftermath, the hair starts sprouting naturally for the lifetime. 
In short, you get a big scope of getting natural hair back with this process. 
Who is a Good Candidate of HT(Hair Transplant)?
Is There Any Side Effect or Risk Involved in Hair Transplant?
Is a Hair Transplant Permanent?
Is It Painful to Have Hair Transplant?
Pain during the surgery
Pain after the surgery
Is It Painful to Have Hair Transplant?
As it's the question that almost all of the patients ask who want to go for a hair transplant, let's answer this in detail. Many people ask about the pain during the surgery and some are concerned about the pain and discomfort after the hair transplant, we will be answering both of these scenarios in detail.
Pain during the surgery
Pain after the surgery
In How Much Time Hair Transplant Surgery Gets Over?
What is Its Recovery Period?
In How Much Time Hair Transplant Surgery Gets Over?
The time of hair transplant surgery completion largely depends upon the procedure that the doctor is going to follow. There are several procedures, some of which have been explained above and all of these take its own time to get completed.
Moreover, the number of hair roots that are firstly extracted and then implanted also influence the time of surgery completion.
Both of these factors influence much on the time of surgery. For example, it would take 8 hours to implant 3500 hair roots with FUE procedure and that too, if surgeons are highly professionals. So, time period can't be mentioned clearly as literally depends upon the situation. 
What is Its Recovery Period?
Want to Get Cheapest Hair Transplant in Delhi? Know About Hair Transplant Cost in Delhi Here!
Though the process is quite advanced, still the hair transplant cost in Delhi is not much. The starting cost is Rs. 25,000 and as per the process the cost hikes up and can reach in lakhs. It purely depends upon your hair position, the procedure followed and particularly on clinics to which you have reached to get this treatment.  
Still if you wonder – What is cost of hair transplant in Delhi?
Per graft cost ranges between Rs 30–35. Average cost of hair transplant ranges between Rs 35000–85000 depending on your baldness level and according to the level of baldness number of hair grafts to be implanted is decided.
The factors on which hair transplant cost depends:
Number of Grafts: The price generally varies in 25000 to 120000 INR. This depends upon the number of grafts, for example, if you want 1500 grafts then the cost would be Rs. 25000 and with the rise in grafts like 2000 or more the price will also hike up. 
The Technique to be Used: As already mentioned, there are a number of techniques for a hair transplant which are based on different procedures. So, the cost varies on which technique you prefer for hair transplant.  
External Factors: Many other external factors like recognition of the clinic, location, packages & offers to customers. If the clinic offers you packages on hair transplant, then per graft cost would not vary. In fact, you will get a number of benefits in one package with reduced cost.    
What Factors Should You Consider Before Choosing A Hair Transplant Clinic in Delhi?
Trained and Qualified Staff
Price
Availability of Hair Transplant Techniques
Portfolio & their Experience
What Factors Should You Consider Before Choosing A Hair Transplant Clinic in Delhi?
Choosing a hair transplant clinic is apparently a tough task and you must choose the one which stands by all the tests confer upon it. Let's discuss what should you look into while choosing one:
Trained and Qualified Staff
Price
Availability of Hair Transplant Techniques
Portfolio & their Experience
Still confused about the clinic from where you should take the services? Then we suggest you check Majestic Derma reviews on Google. It has bagged 5-star rating for FUE hair transplant services. Our before and aftercare services satisfy the customers and they feel relieved after getting the hair transplant with advanced techniques in India. 
We have bestowed with noticeable results so far and will appease our customers by delivering them the best services with long lasting inferences. Just go through the reviews uploaded on our site and make your mind to get it done right away. 
This question is obvious as the market is brimmed of hair transplant clinics today. Then why should you choose our professional team at Majestic Derma? Firstly, know what it actually is!
Being the skin and hair specialists, Majestic Derma is contributing tremendously to the society with its felicitated services. It has shored up its name in the top professionals well known for their certified treatments. People are obliged to get out treatments every time and prefer us for any skin or hair problem. 
Here we are sharing the reasons to take our services, just go through it:
At Majestic Derma, we are a team of professionals and have conducted 2000+ hair transplant surgeries so far with 100% results. 
The right direction, depth, and angle of hair roots implantation provide 100% natural results to our patients and the hair seems to be naturally grown after surgery. 
For us, your safety is our priority and we follow the protocols in the desired way to bring safe results to you. 
We vouch for the best results and lifetime hair growth by choosing just healthy hair follicles. 
At Majestic Derma, you get quality treatments in pocket-friendly rates.
So, why not you are joining us? Get in our touch and get the best hair transplant in Delhi from us to live a satisfactory life ever after. 
Give us a call today!
If you're looking for a permanent solution to your hair loss, you may want to consider a hair transplant. This minimally invasive surgery allows the surgeon to move healthy hairs on your scalp to areas with thinning hair
Age 25 is a reasonable cut off for hair transplants for most men. I'm often asked to see males 18-23 years of age for a hair transplant
Most people are surprised there is virtually no pain during an FUE hair transplant procedure done under a local anesthetic. Once the skin is properly anesthetized, though, there is no pain.
You can cut, dye or shave them like your normal hair. They will again grow back like your natural hair. Point to be noted: The hair roots (follicles) that your surgeon transplanted, will never get thin or lost ever again.
Popular Tags:
fut, cost, 3000 grart, before and after, synthetic, fue, frontal, robotic, clinic, high density, beard, artificial, hair weaving, grade 7, grade 5, grade 6, 2000 gradt, 4500 graft, 3500 graft, follicular unit, maximum graft, cleft lip, best hair transplant centers, best hair implants, top hair transplant, best hair transplant clinics, best hair restoration doctors, best hair transplant procedure, medical hair transplant center, best hair transplant clinic, best procedure for hair transplant, best hair transplant technique, natural hair transplant medical center, best hair transplant in india, best hair transplant for women, hair transplant surgeons, hair loss treatments